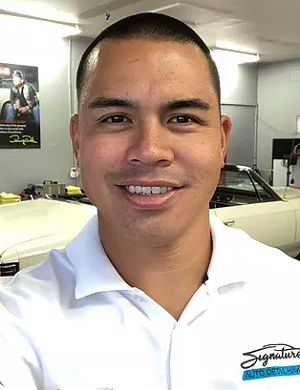 I currently hold over a dozen professional certifications in the detailing industry. Most notably, dual certifications with the International Detailing Association (IDA) as a Certified Detailer (CD) and an advanced Skills Validated (SV) certification with the organization. Certified IDA Detailers are held to a higher quality standard, and the SV designation means I've passed challenging hands-on testing according to strict industry standards determined by leading industry professionals.
We are constantly advancing our knowledge and skill sets in an industry that is quickly evolving with better detailing tools, techniques, and products.  We have trained with a worldwide group of elite detailers led by Master Detailer of Air Force One, Renny Doyle, of Detailing Success.  I am also both humbled and honored to be a part of the Air Force One Detailing Team.   
We are a fully licensed and insured business.  Consider the fact that we are also mobile, and therefore, we come to you!  Forget driving somewhere to get your car done; we'll save you the time and gas money by performing the detail at your location.  Enjoy the comforts of your own home while we work our signature touch!  Based out of North Kohala, we also serve South Kohala to Honokaa, and the Kohala Coast to Kailua-Kona.  Pick up, drop off services are also available in select areas.
We at Signature Auto Detail Hawaii, LLC want to provide the very best detailing service for your vehicle, but even more, we want to take care of you our client and welcome you to our Signature Auto Detail Hawaii Family!
Thank you for your interest in our services and we look forward to doing business with you soon!