THE SOLUTION TO SWIRLS, SCUFFS, AND SCRATCHES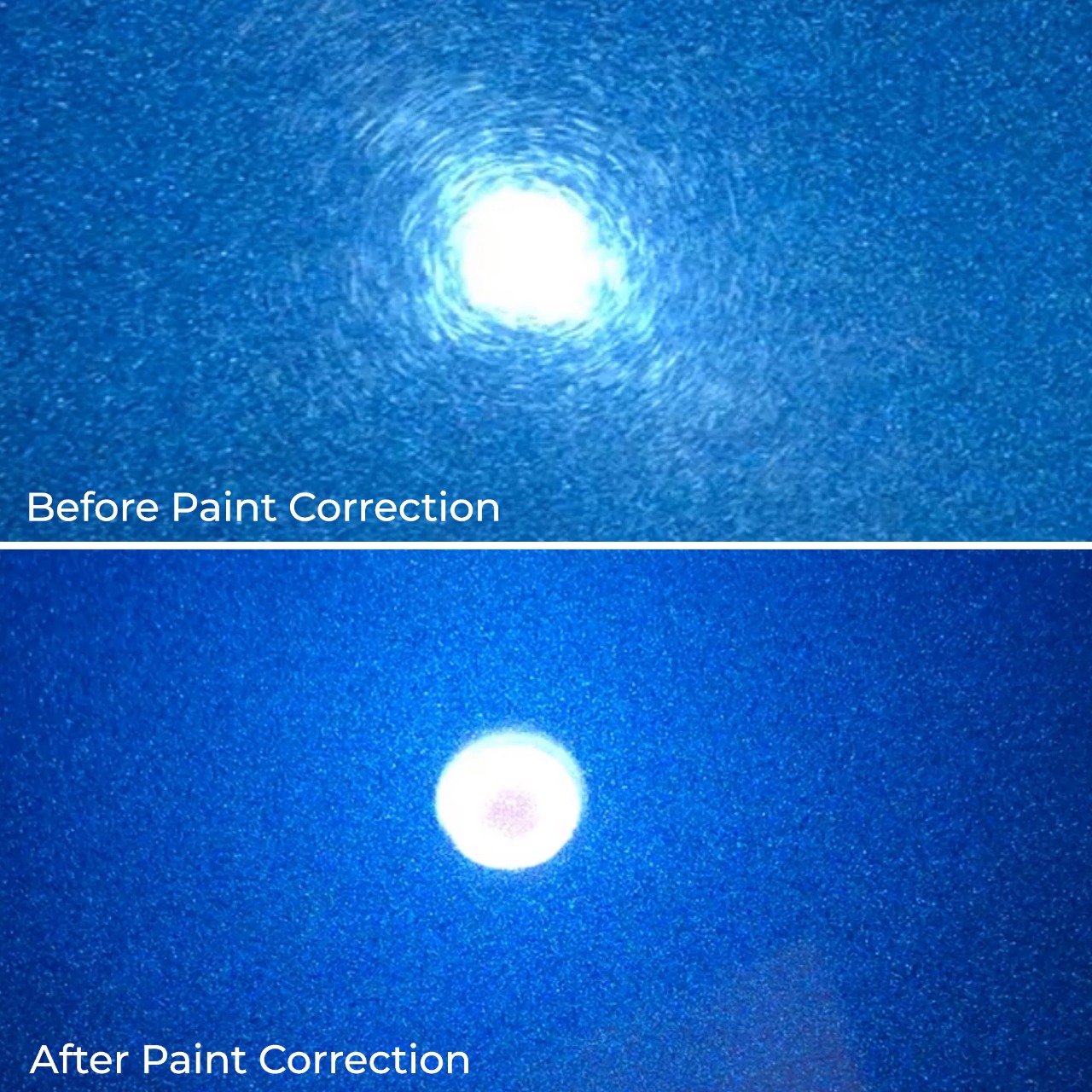 Paint correction is a labor-intensive process which removes a percentage of surface imperfections found in your paint such as swirl marks, random isolated deep scratches, holograms, buffer trails, haze, oxidation, water spots, and bird poop etching or hard water etching.  Proper polishing utilizing varying steps according to the clients expectations and budget, will produce an intense amount of gloss with much depth, clarity, and luster to the paints finish.
Excellent paint polishing requires a high degree of skill and concentration but done properly, it can really transform the look of a car!  
Pricing is based on size and condition of the vehicle at time of inspection, schedule it today! 
Most Common paint defects
Paint correction packages
Deep clean & protect wheels 
Clean & condition tires
Bug & tar removal
Pre-rinse & hand wash exterior
Clean fuel compartment
Hand & air blown drying process
Wipe down door jambs
Clean & condition exterior molding & trim
Clean exterior windows & mirrors
Chrome trim / exhaust tips cleaned, polished, & protected
Deep clean emblems, seams & rubber molding
Light machine polish to remove light defects & minor surface scratches
50-60% improvement in the paint, results may vary
2 coats of a paint sealant for 3-6 months of protection (or upgrade to a ceramic coating, recommended)
NOT INCLUDED: Paint heavy cut compounded by machine (to remove deeper swirls & defects)
Estimates Given are Based on Size and Condition of Vehicle at Time of Inspection
Deep clean & protect wheels
Clean & condition tires
Bug & tar removal
Pre-rinse & hand wash exterior
Clean fuel compartment
Hand & air blown drying process
Wipe down door jambs
Clean & condition exterior molding & trim
Clean exterior windows & mirrors
Chrome trim / exhaust tips cleaned, polished, & protected
Deep clean emblems, seams & rubber molding
Heavy cut machine polish to remove deeper swirls & defects
Light machine polish to remove light defects & enhance the gloss
70-80% improvement in the paint, results may vary
2 coats of a paint sealant for 3-6 months of protection (or upgrade to a ceramic coating, recommended)
Estimates Given are Based on Size and Condition of Vehicle at Time of Inspection
Deep clean & protect wheels 
Clean & condition tires
Bug & tar removal
Pre-rinse & hand wash exterior
Clean fuel compartment
Hand & air blown drying process
Wipe down door jambs
Clean & condition exterior molding & trim
Clean exterior windows & mirrors
Chrome trim / exhaust tips cleaned, polished, & protected
Deep clean emblems, seams & rubber molding
Heavy cut machine polish to remove deeper swirls & defects
Light machine polish to remove light defects & enhance the gloss
Jeweling machine polish to further refine and enhance the depth of the paint's finish
80%+ improvement in the paint, results may vary
Ceramic coating 1 year protection (or upgrade to a more durable coating, recommended)
Estimates Given are Based on Size and Condition of Vehicle at Time of Inspection